Don't believe you need to stay home? Let me help you change your mind.
Maybe, you think that you're not in a high-risk group. You're young. You haven't been to China or out of the country. You think you haven't been around anyone who is sick.
Apparently, there are tons of people just like you. Folks that think they should have the best of life at every moment. The facts don't support ignoring the rules.
Here are a few facts:
People 18-49 represent 53% of coronavirus cases in New York
Older people and those with more compromised immune systems and underlying illnesses are more likely to die, 18-49-year-olds can still get sick and transfer it to someone else.
People with mild, limited, or no symptoms are accelerating the spread of Coronavirus.
"The explosion of COVID-19 cases in China was largely driven by individuals with mild, limited, or no symptoms who went undetected," says co-author Jeffrey Shaman, PhD, professor of environmental health sciences at Columbia University Mailman School.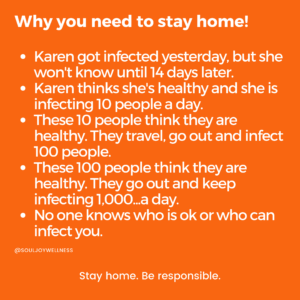 Those who might seem healthy, but are infected are unknowingly causing the spread of this virus. Ignoring social distancing and forming crowded groups only makes this worse.
"The spread of Covid-19 is broad," said Barbara Ferrer, the public health director in Los Angeles County, Calif., where at least five people with the coronavirus have died as of March 23, 2020. "Everyone should assume that anyone can have Covid-19, and anyone could unintentionally infect others."
This is evolving everyday. Stay informed. Follow the guidelines. Practice social distancing. Stay home.