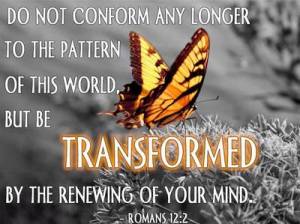 Romans 12:2 (NIV) Do not conform to the pattern of this world, but be transformed by the renewing of your mind. Then you will be able to test and approve what God's will is—his good, pleasing and perfect will.
Transforming yourself is effort. To be more in line with what God wants requires focus, dedication and commitment. While striving for perfection, each of us will certainly falter. However, we will continue to improve as we make more adjustments.
At this point during the Lenten Challenge, you may be feeling as if you'd simply like to give up the things you decided to do at the start or you may feel that you have strayed so far from your plan that you might as well give up altogether. Instead of giving in to those feelings, decide to recommit yourself. Know that God loves you for what you've done thus far and will love you through each step.
Your efforts do require discipline in your commitment. This discipline will continue to grow with practice. Focus on your goal as you make corrections and make the next step. Continued discipline becomes habit and requires less effort to keep on track.
1 Corinthians 9:24 [ The Need for Self-Discipline ] Do you not know that in a race all the runners run, but only one gets the prize? Run in such a way as to get the prize.
You are heading toward the prize today. Renew your mind with a focus on winning the prize!