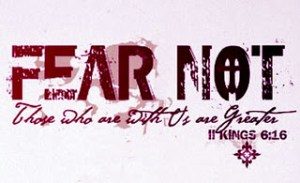 In all of our efforts to lose weight, eat healthy and stay on track with our fitness goals we still tend to not do our best. Why is that? Sometimes there are emotional or psychological reasons people turn to food. And other times we have to realize as Oswald Chambers states "All our promises and resolutions end in denial because we have no power to accomplish them."  But when we turn this portion of our life over to God, as we should with all areas of our life, we are then comforted by these words "Don't be afraid," the prophet answered. "Those who are with us are more than those who are with them." -2 Kings 6:16. 
Daily, we are bombarded with thousands of options for snacks. Most of which would not be beneficial in working towards the goal you have in mind. Of all of the obstacles that threaten to play a role in sabotaging our efforts, simply adding THE one major factor will free you from the stress you face when you go into battle with your weight loss. That factor is God!
He has told us in 1 Corinthians 10:13 "No temptation has seized you except what is common to man. And God is faithful; he will not let you be tempted beyond what you can bear. But when you are tempted, he will also provide a way out so that you can stand up under it." I used this exact verse one day when I was extremely hungry and away from home. I was tempted by some of my favorites…ALL CANDY!!! Instead of falling prey to the temptation I left my location and bought a cup of pineapples. I believe that had I tried to go it alone I would have reasoned why its ok to have, succumb to my desires for the sweetness of whatever candy I had chosen then chastised myself for it later. But once the scripture came to mind I immediately left the store. There being one example of how God just being in the midst of your effort can catapult you from where you stand alone to His prosperous graces.
We need, and our spirit desires to partner with God…in all things. And since God longs to be a part of every aspect of our lives why not include Him in this? "I will walk among you and be your God, and you will be my people."
And finally, when we see that we, by ourselves, are not enough we will more readily relinquish the reigns over to Christ and truly fall back on this statement "I can do all things through Christ who strengthens me" –Philippians 4:13