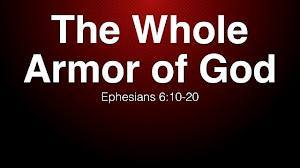 Ephesians 6:10-12 10 Finally, my brethren, be strong in the Lord and in the power of His might. 11 Put on the whole armor of God, that you may be able to stand against the wiles of the devil. 12 For we do not wrestle against flesh and blood, but against principalities, against powers, against the rulers of the darkness of this age, [c] against spiritual hosts of wickedness in the heavenly places.
There is nothing more powerful than the power of God, EXCEPT the complacency of man. I heard a minister say this about a year ago. As I meditated on this thought then and share it with you now, the truth of that statement resonates in my spirit. Can We Talk?!
We have free will. God doesn't force us to do anything. Even salvation, the single most important decision I believe we make in our lives, God leaves to us to make freely of our own volition. I can testify that many times in my life I have gone against what God was commanding me to do because of laziness, content, or complacency. Yes, I was disobedient. Comfortable in my situation, routine, or way of life. Then here comes God, shaking the foundation of my complacency and commanding more of me. Doesn't He know I'm busy here?!
Thank God for His grace, mercy, and love. God's love meets us right where we are, but He doesn't leave us there, in the same condition He found us. His love compels us to change, move, grow and be different. His love fuels our desire to obey and change.
When God instructs us to change we have to be ready for Satan to oppose us. We have to be ready for our own flesh to oppose what our spirit knows to be the right decision (Galatians 5:17). We will think of every excuse possible to remain the same and hold on to what God is trying to pry from our grip. If we are going to change and be all that God ordained we have to first get clear in our minds that the work is going to be hard. If it were easy, then everyone would be doing it and knowing us, we would be bragging about how WE did it. Yes, the work of changing our old habits, attitudes, and behaviors will be challenging, BUT God! He is faithful to complete the work He began in you. Put on your armor Warrior. Stand.
See you at the top!
Aqua
Originally published on gospelfitchallenge.com ~ #LentenChallenge Day 2